Fannie Lichstein: From Mołodiatycze to Calgary
Genealogical evidence can often prove surprising and force us to grapple with new information about our ancestors and their relationships.
Genealogical evidence can often prove surprising and force us to grapple with new information about our ancestors and their relationships we hadn't previously been aware of. Such is the case with my great grandparents, Albert Sidney and Fannie Lichstein.
Fannie was born Finkel Rotenberg in Mołodiatycze, Hrubieszów, Lublin Governorate, Polish Russia sometime between 1878 and 1884. Her birth records have not yet been found, but this range of years is based on her marriage and census records. She was raised in nearby Grabowiec by her parents. Her father was certainly Jacob Rotenberg, though the name of her mother remains unclear. She listed her mother on her marriage documents as Jochwet Merensztejn, but according to a Rotenberg genealogy document, Jochwet was Jacob's second wife, and Fannie was a child of his first marriage.
Abraham and Fannie: Canadian Homesteaders
Finkel married Abram Lichtsztajn in the town of Chełm in November 1903. They returned to live in Abram's home town of Krasnystaw where they had two children: Joseph (b. 1904) and Paul (AKA: Pesach, b. 1906). Abram left Europe to join his older brother, Israel Mendel (AKA: Srul, b. 1872), in New York apparently prior to Paul's birth.
Finkel joined her husband in New York with the children in December 1908:


Finkel and Abram, now known as Fannie and Abraham got busy within a month of her arrival in New York and she gave birth to Betty in October 1909.

Abraham, whose career back in Krasnystaw was as a painter, soon decided to try on the life of a homesteader through the acquisition of cheap land in Canada. He moved Fannie and the children to Lipton, Saskatchewan and, in 1911, applied for a land grant on two quarter sections of land South of Eyre, Saskatchewan.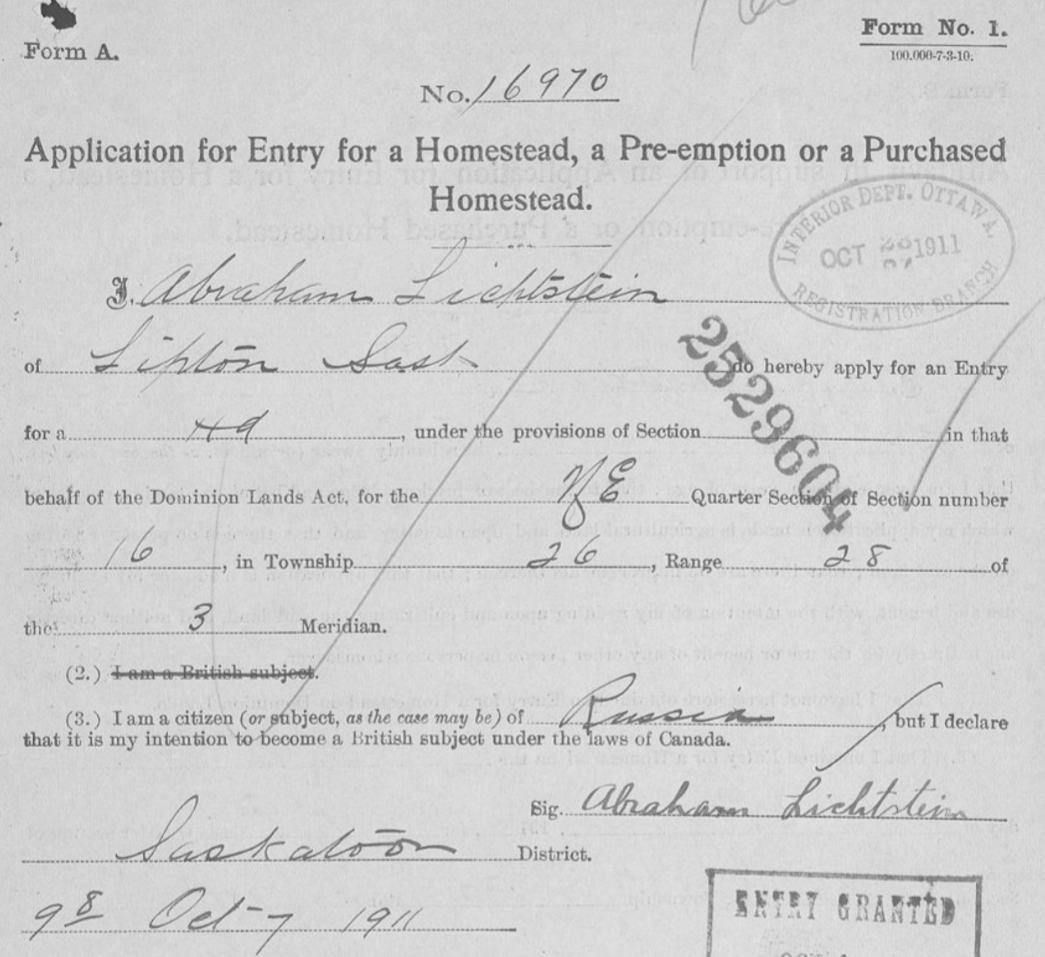 It was harsh land and hard to work. In 1914, Abraham and family officially became Canadian and in 1915, the year of birth of their fourth child, Martin, Abraham applied to have the Southeast quarter of the land returned to the government due to its difficulty to farm. He did have some success with the Northeast quarter, however, and applied for and received a land patent (ownership) in 1916.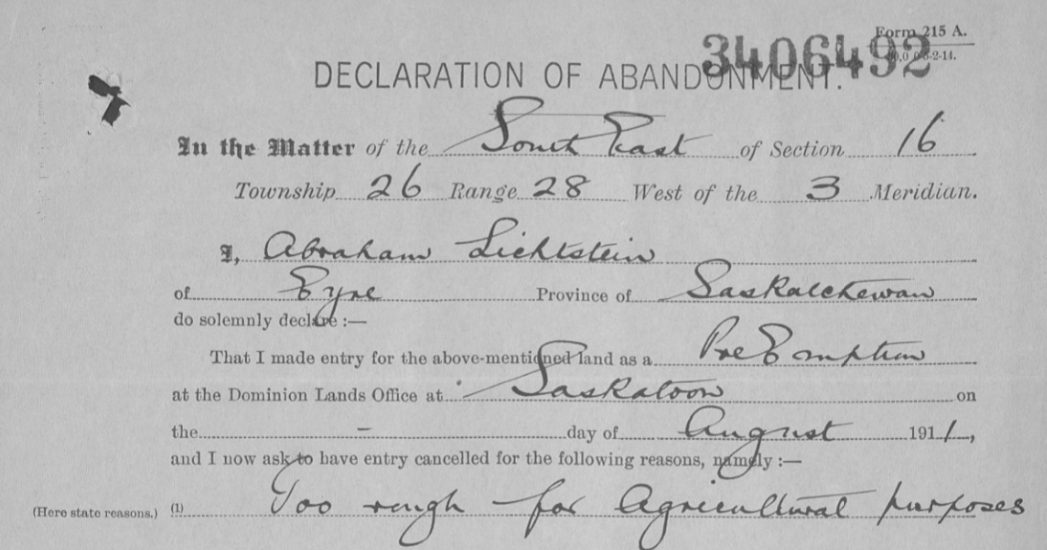 In 1918, Fannie and Abraham had a fifth child, Henry (AKA: Hirsch). It's difficult to know what provoked struggles at this time, but things became difficult for Abraham and Fannie. Looking to historic conditions, it seems certain the 1918-20 drought in the prairie provinces would have hit this family subsisting on rough farmland particularly hard.
In any case, circumstances became dire enough that in late 1919, Albert was arrested for neglecting and failing to provide for his wife and family. A month later, he was found guilty and released on probation, conditional upon providing for his family for no less than two more years.

Things get a little hard to track past this point, but it seems Abraham continued not to support his family and, in the meantime, had been the target of an alleged conspiracy to commit murder. I've found no other mentions of this case in news print and will likely need to make a request of the Saskatchewan courts for more information.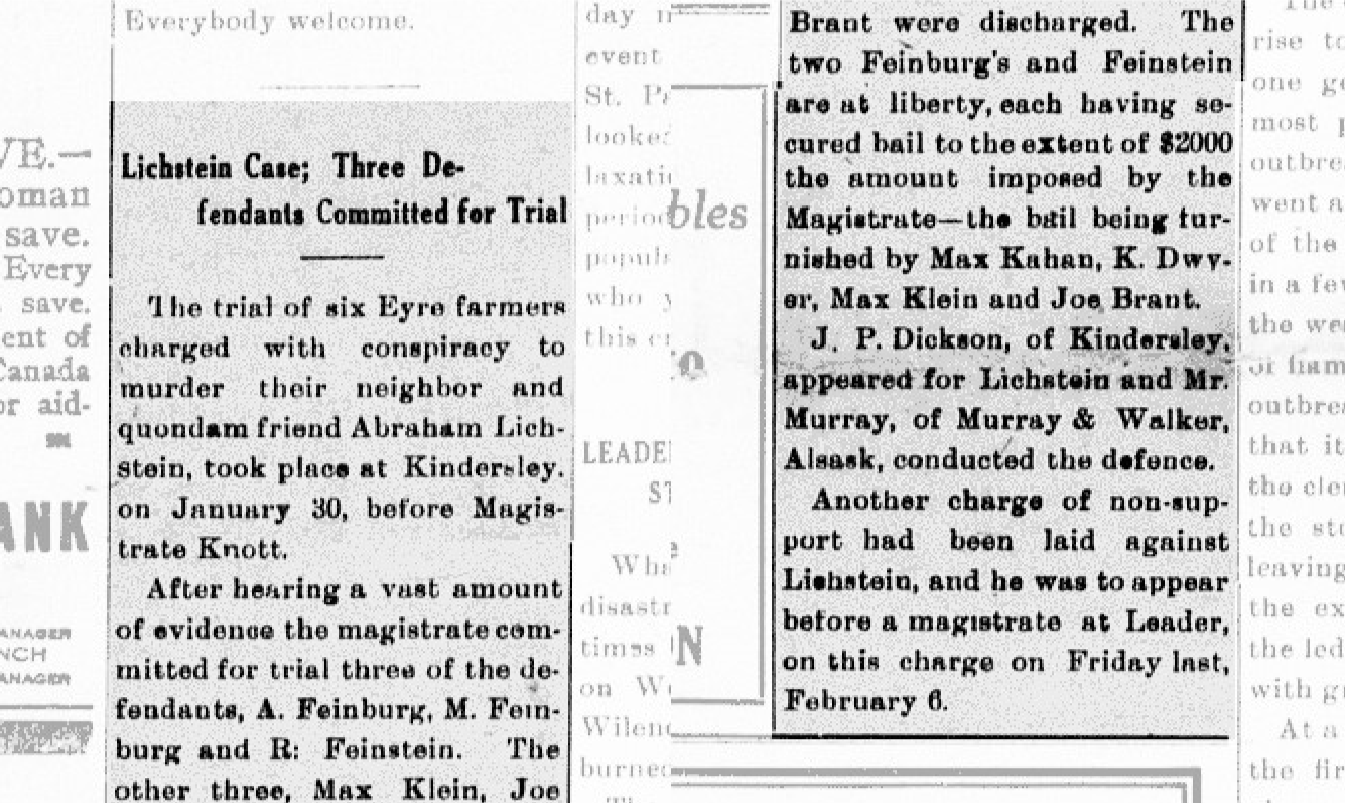 On December 25, 1920, Abraham Lichstein re-entered the United States with intent to remain, deserting Fannie, and taking with him his daughter Betty and son Martin. It's unclear whether Fannie and Abraham had a proper divorce; under the new name Albert Sidney Lichstein, he claimed on his Petition for US Citizenship that the two had divorced in 1919 which is uncertain. I was not able to find any mention of this divorce in the Canadian Acts of Divorce database for this period of time.
As this post is about Fannie, I'll save discussion of Abraham/Albert's later life for another post.
Fannie and the Boarding House
Fannie was left with little, apparently unable to seek alimony nor the return of her two children now in the United States.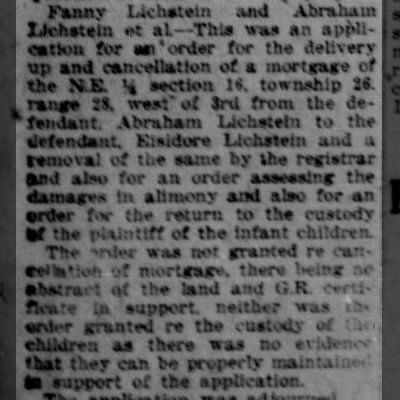 Fannie was living in Saskatoon with her three remaining children in Canada as of the 1926 Census of the Prairie Provinces. In spite of Abraham/Albert Lichstein's living status in the USA, Fannie recorded herself as a widow.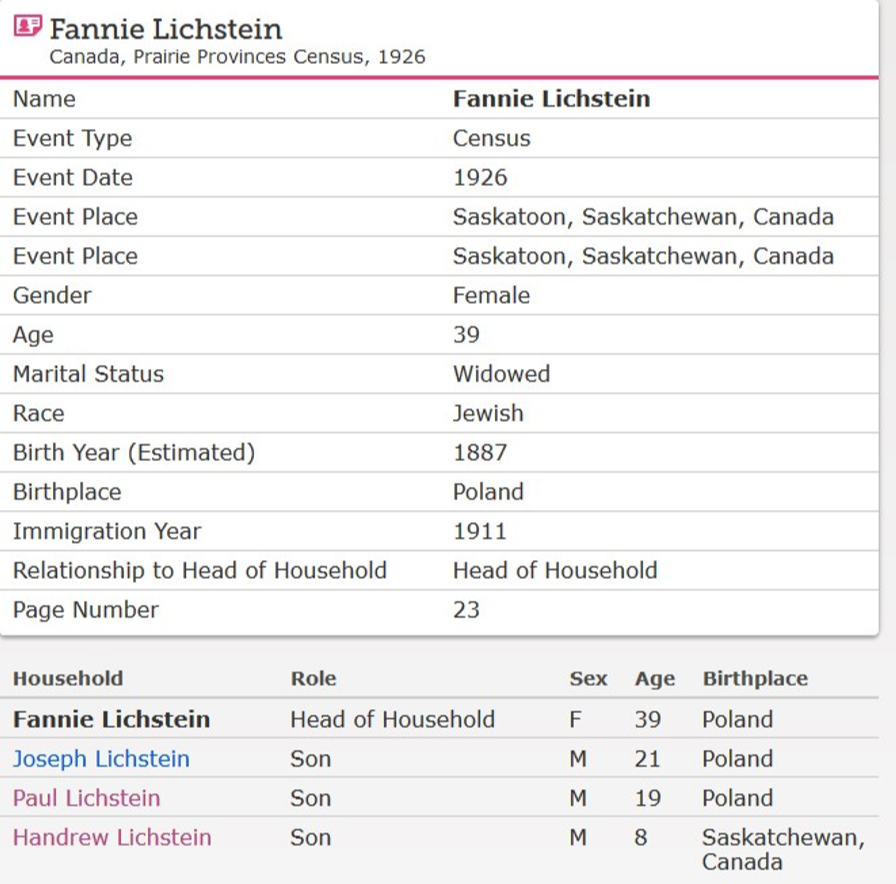 Her son, Joseph, an office clerk for Canadian National Railway (C.N.R.) Express in Saskatoon, was able to contribute to the construction of a large, many-roomed home for the family at 402 Avenue F South, which Fannie later operated as a boarding house.
Fannie, it seems, was not too picky about boarders, with a search of the home address in newspapers of the time producing several results for arrested and on-the-run criminals and vagrants listing 402 Avenue F South as their home address. Fannie's boarding house was apparently under observation by the police; in November 1938, Fannie was arrested as part of a coordinated set of raids for "keeping liquor for sale".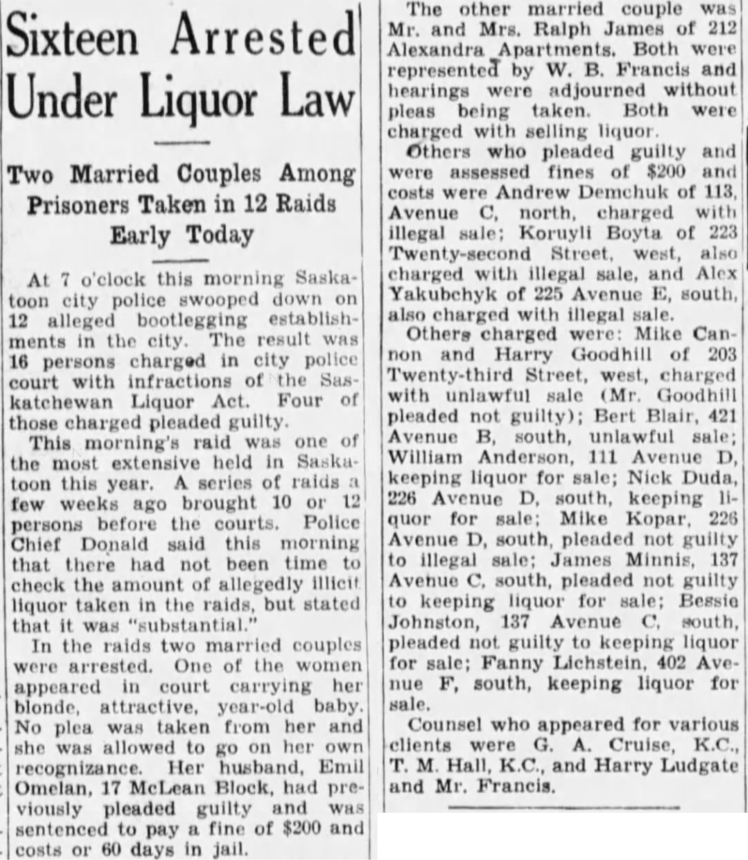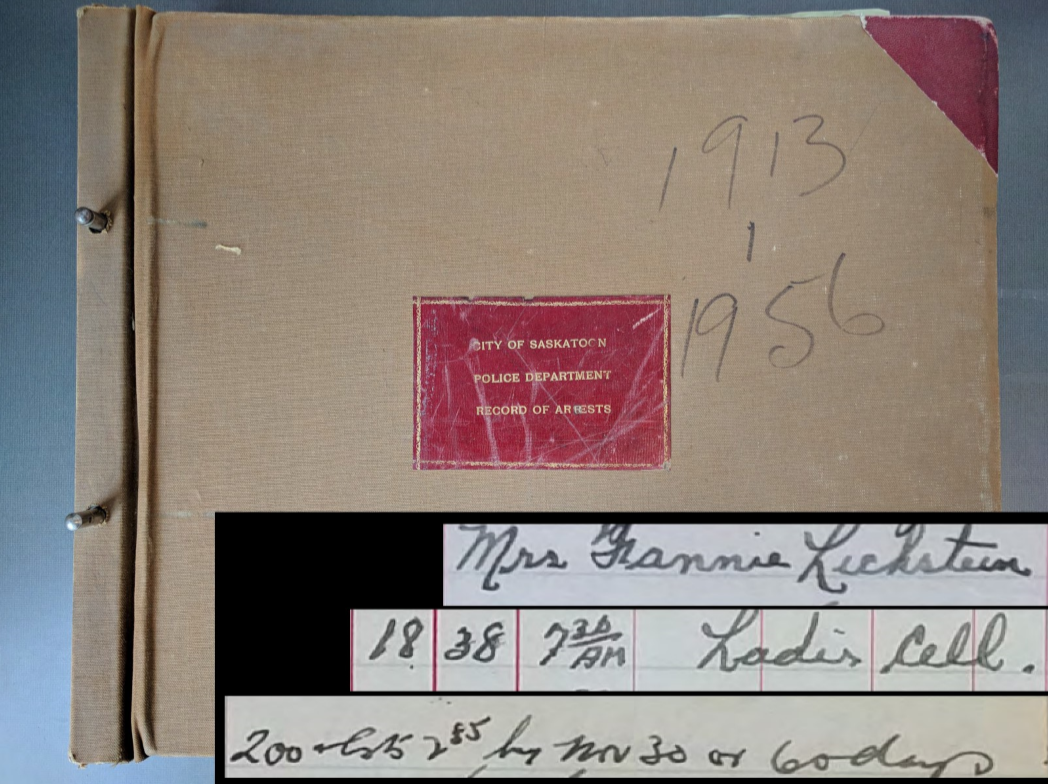 Meanwhile, Joseph, still living at the same address, was becoming quite well known in Saskatoon both as a musician and as a contributor to the community. An active member of the Junior Chamber of Commerce of Canada and the Saskatoon Board of Trade, he had reason to travel to the US for a conference in 1941. Having discovered upon applying for a passport that, while naturally being a citizen, he was not in possession of acceptable proof of citizenship, Joseph petitioned the Under Secretary of State, Naturalization Branch, for a certificate of naturalization. After a standard procedure RCMP investigation, his petition came back denied! The reason? The RCMP were aware of his mother's boarding house's reputation with local authorities.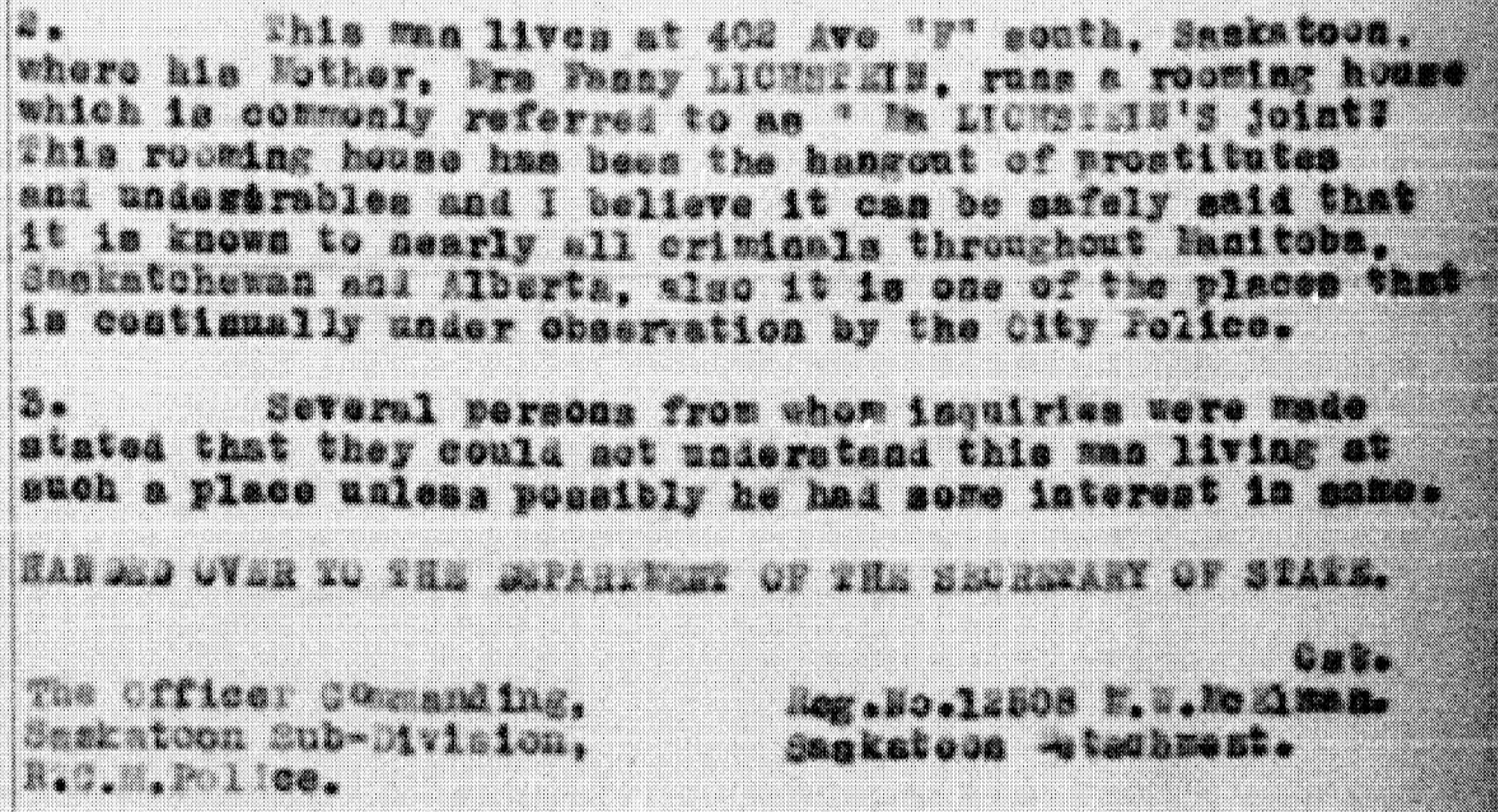 From R.S. Primrose of the Saskatoon Detachment of the RCMP:


While this RCMP officer refers to the boarding house as a "house of prostitution," I found little additional evidence to back up that claim in either police documentation or the newspapers. It seems simply as though Fannie was not particularly concerned about the criminality of some of her house guests and was willing enough to provide room and board to those the police and others found unsavoury. Fannie was never charged for supposedly being a procuratrix.
Fannie's home did appear in the news occasionally over the years when she was the victim of criminal activity: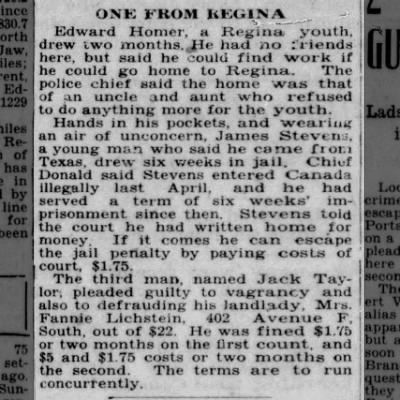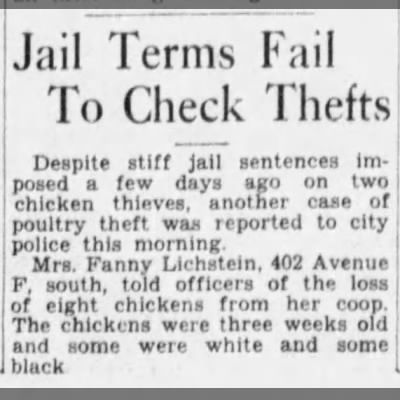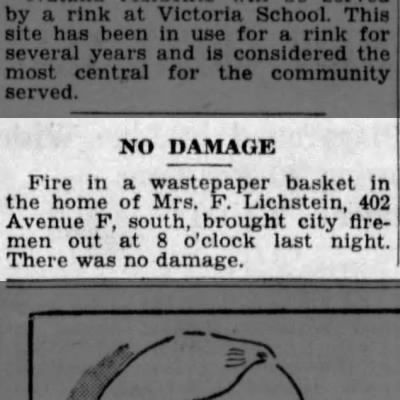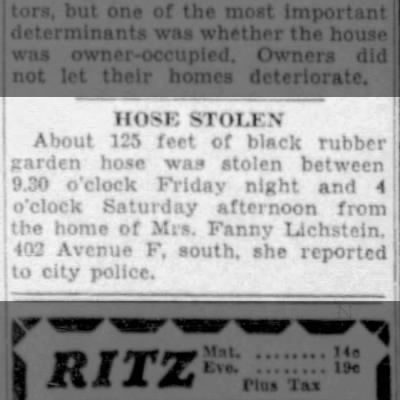 Joseph, in any case, delayed by the bureaucracy for over a year, enlisted the assistance of his Member of Parliament, Alfred Henry Bence, in having the decision regarding his proof of citizenship reversed. Bence wrote a letter to the Under-Secretary of State on Joseph's behalf. On July 20, 1942, Under-Secretary of State E. H. Coleman finally approved Joseph's application (denial of which appears sketchy to my eyes, and apparently did to Coleman's as well).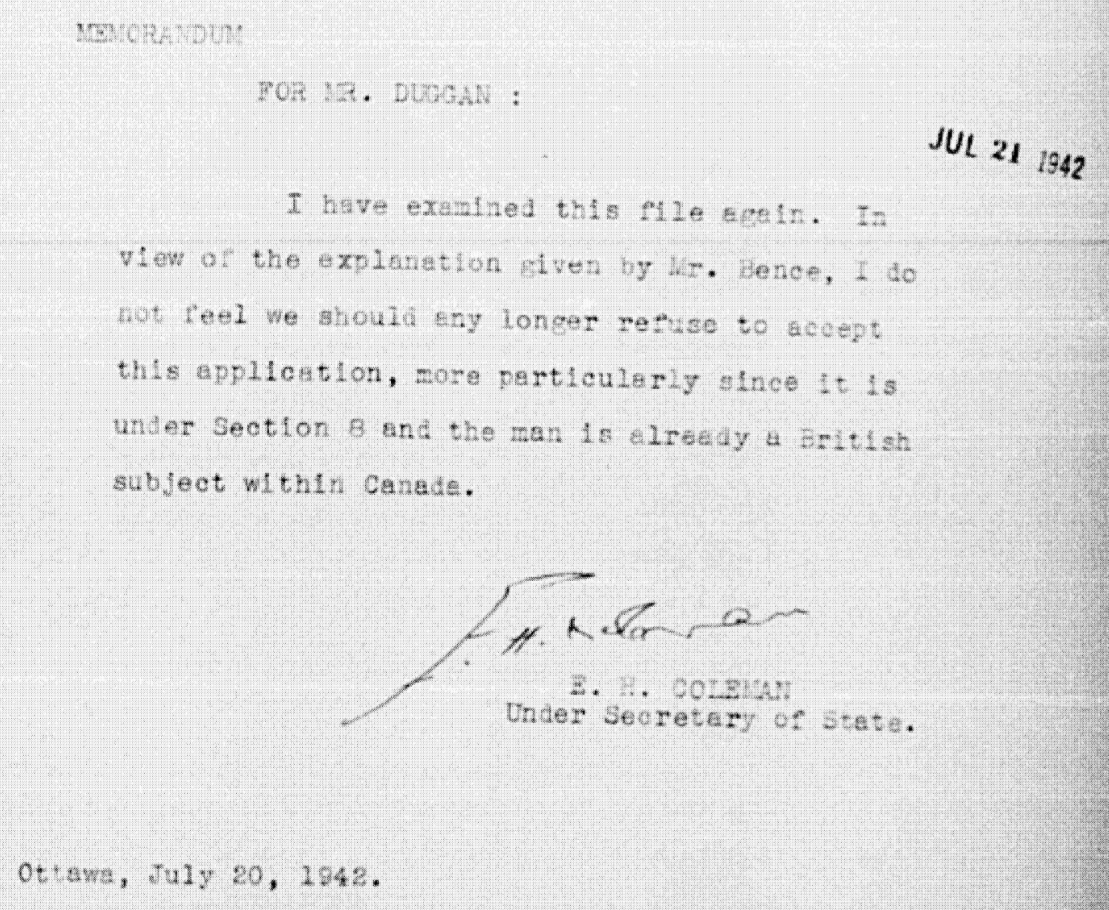 Fannie's Final Years
Fannie continued to run the boarding house for some time after, and the family eventually put the property on the market. The timeline is a little unclear here, but Fannie fell ill in the mid-to-late 1940s and her son Paul travelled to Saskatoon to support her. Since she was ailing and Paul wanted her close, he bought Fannie a house in Calgary.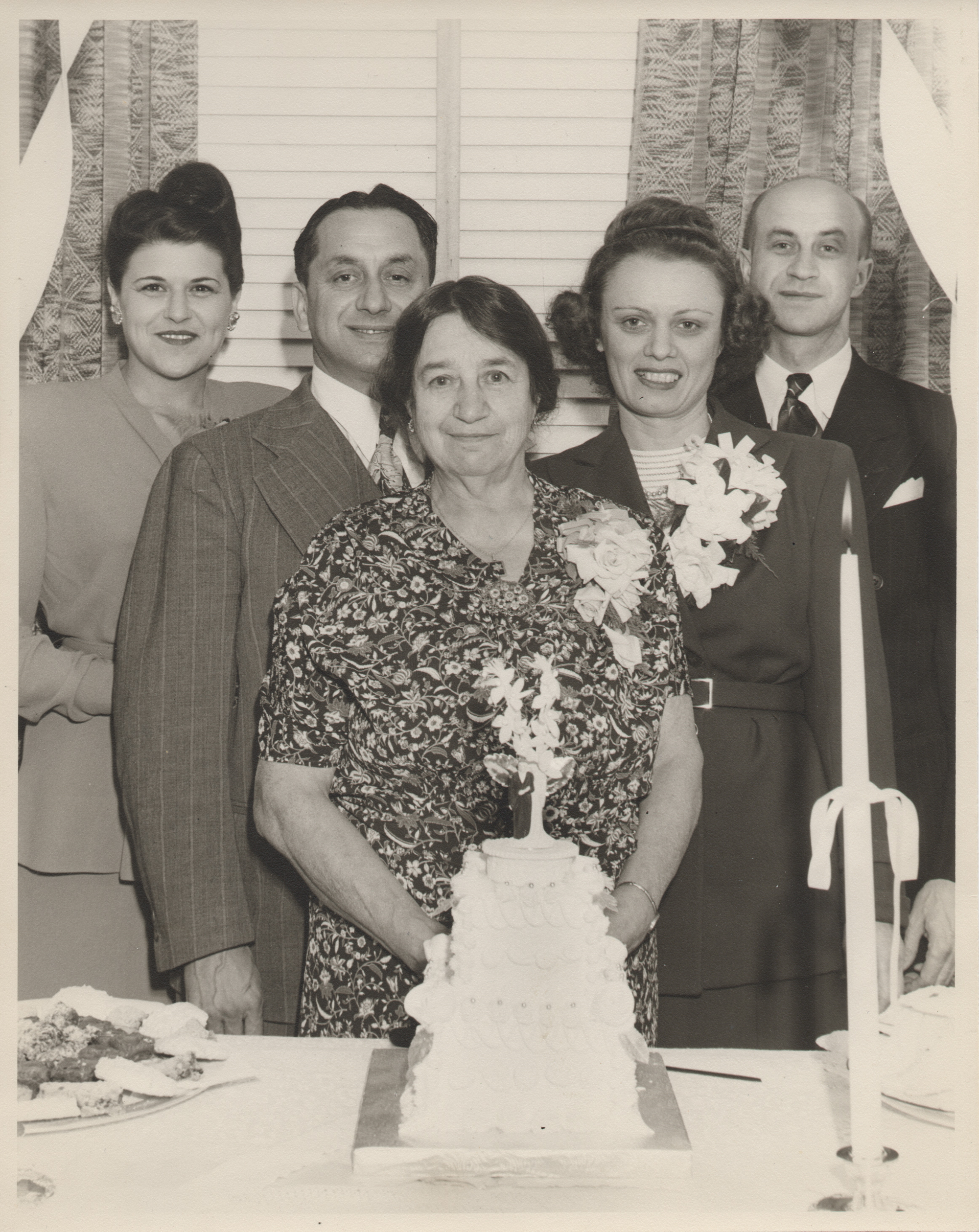 Shortly after, Fannie decided to travel to Pittsburgh to live with her daughter, Betty. Prior to her departure, Paul had married Esther and the two of them, who had been living in a crowded one-room apartment since their wedding, moved into the house. By 1951, apparently Fannie and Betty were not getting along. Esther wrote about this period in her memoir:
By this time, my mother-in-law was not getting on well with her daughter. (Betty had been taken to the States with her father when she was very young and so she and her mother were virtually strangers to each other.) It was then decided to send her back to Regina. Joe arranged for her to stay with some people there but they didn't get along. She wrote to me and asked if she could come live with us. I wrote to my mother to ask her opinion. My mother said that, after all the problems that Fanny had caused in my relationship with Paul, if I let her move in with us, I was making a big mistake. It was, therefore, decided to send her to a Nursing Home in Winnipeg. She was there only a few months when she passed away, in 1952. She was then brought back to Calgary and buried here.
Fannie passed away on February 2, 1952 and was buried in the Calgary Jewish (Erlton) Cemetery.