Even More Rothenbergs?
My previous Rothenberg Roundup post unearthed quite a bit of evidence of Rothenberg links. In this post I'll be exploring a more difficult to prove arrival.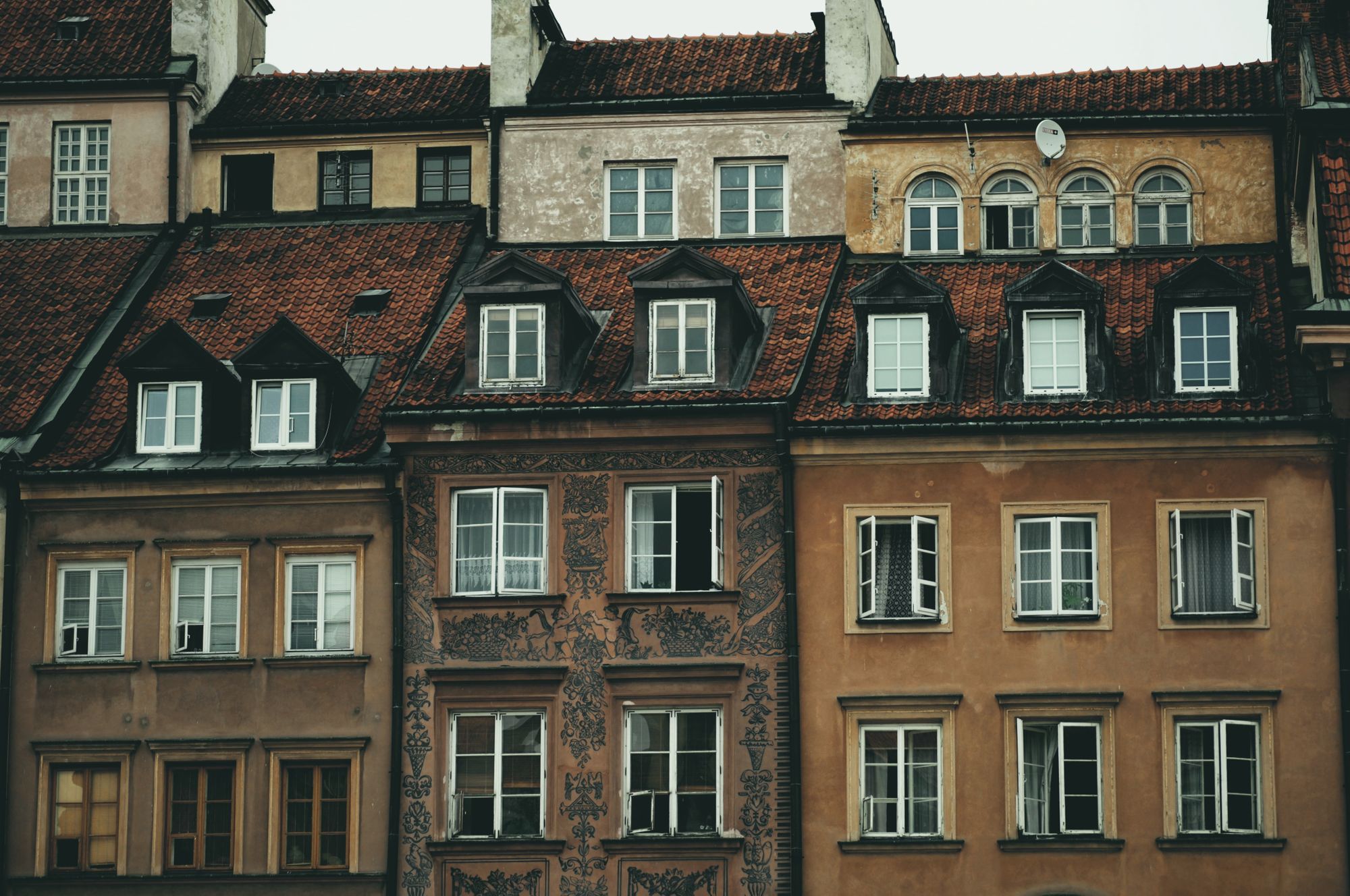 My previous Rothenberg Roundup post unearthed quite a lot of evidence of Rothenberg links. In this post I'll be exploring a more difficult to prove arrival.
Glancing at my mother's Ancestry matches today, I found a new one at about a 3rd cousin distance.
When I spotted the Rotenburg name in their public tree along with a child named Jeannette (possibly named after a grandmother Jochwet, sharing a name with at least two would-be cousins), I immediately checked our shared matches and, sure enough, we share matches all but confirming our DNA connection through the Rotenburg/Rotenberg/Rothenberg name.
As the original tree didn't contain much for paperwork evidence, I set out to collect as much as possible, though there are still some important pieces I haven't tracked down.
First, examining the California Death Index entry for Jeannette M Siegel confirms her father's last name as "Mershon" and mother's last name as "Rothenberg", a measure taken just to make sure the original tree is on the right track: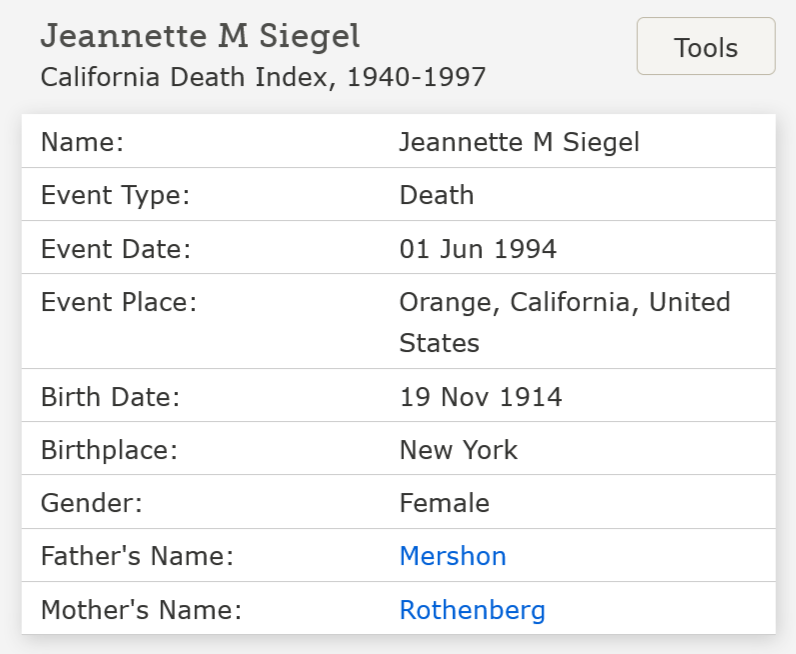 Looking to census records, I found the following census entries confirming the record:
Most importantly, knowing that immigration records often connect people with addresses and names for related family, what I was looking for was the immigration year for Abraham and Minnie. I found the year 1914 as the immigration year for Abraham and Minnie by reference to years in the USA.
I then went searching for US Naturalization papers and, having difficulty trying to find the records I needed on Ancestry, turned to FamilySearch to see if I'd have better luck there. Sure enough, with some fiddling around with dates I eventually found the matching paperwork which gave me Abraham's (but sadly not Minnie's) exact arrival date and ship name: July 10, 1913 on the vessel "Uranium".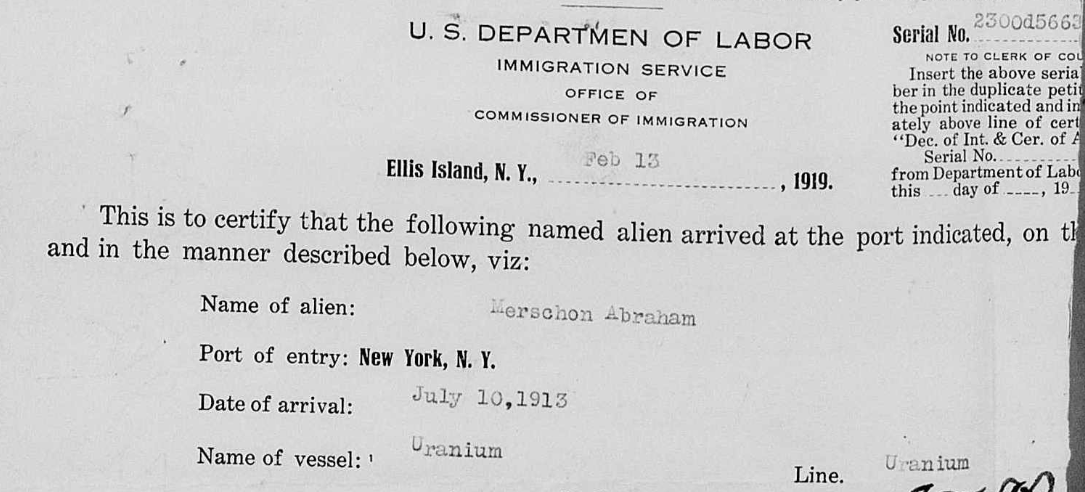 A quick search later and I was looking at the New York Passenger Manifest. The writing is feint, but still legible. "Abraham Merschan" was last living in Warsaw where his wife, "Merel Merschan" was still residing:

On the following page (one should always look on the next page of these passenger manifests for extended information), Abraham listed his New York contact as his brother-in-law, "Maise Rubin," residing at 116 E 105 St. I strongly suspect that this meant Morris Rubin, husband to Rose Rothenberg, who only two years prior was apparently living at 124 E 105 St. If Morris was Abraham's brother-in-law, this would make Rose and Minnie sisters, as I suspect is the case.

I have not yet been able to directly correlate an address or family connection, nor have I been able to locate Minnie (Merel) Rothenberg Mershon's passenger manifest (between 1913 and 1915) which I'm hoping would include a Warsaw contact who solidifies this family connection. Hopefully this turns up in time.
Recap of (Circumstantial) Evidence of a Family Connection:
3rd cousin distance DNA connection of 106 cM across 8 segments
Last name Rotenburg/Rotenberg/Rothenberg
Born in or previously resided in Warsaw, Poland
Born in 1893 according to Social Security Death Index which would fit (assuming no conflicts) into the timeline for children born to Jacob and Jochwet in Poland
Child named "Jeannette", one of many possible Anglicization of Jochwet, and the name given to at least two other grandchildren of Jochwet Merenstein Rothenberg
Husband listed brother-in-law, "Maise Rubin," as his contact in America at a New York address close to one past address of "Morris Rubin," husband to Rose/Rosa Rothenberg.
Will update with more as evidence presents itself.
Edit (9 June 2019):
I received confirmation today from my DNA match, above, that they are indeed aware that Rose Rothenberg Rubin and Minnie Rothenberg Siegel were siblings. This solidifies the link for me, absent additional written evidence and I've started updating my trees to reflect the addition of Minnie's branch. I'll be speaking with my DNA match at length sometime in future, which may well unlock more information I was missing to this point.
Edit (14 June 2019):
Speaking with my DNA match, Howard Siegel, today, I've confirmed Minnie Rothenberg Mershon later married Louis Koslofsky, which connects her to Sarah Rothenberg Woodberg Lipowicz whose obituary lists a sister, "Mrs. Louis kaslofsky," in New York. Howard also confirmed memory of awareness of an Aunt Fannie in Canada as well as a violinist cousin Joe Lichstein. He also confirmed knowing varying amounts about all the other siblings of Fannie, Minnie, and Sarah. These memories tie our families together and I'm so grateful for having had this conversation. We've shared access to each other's trees in the hopes of future collaboration.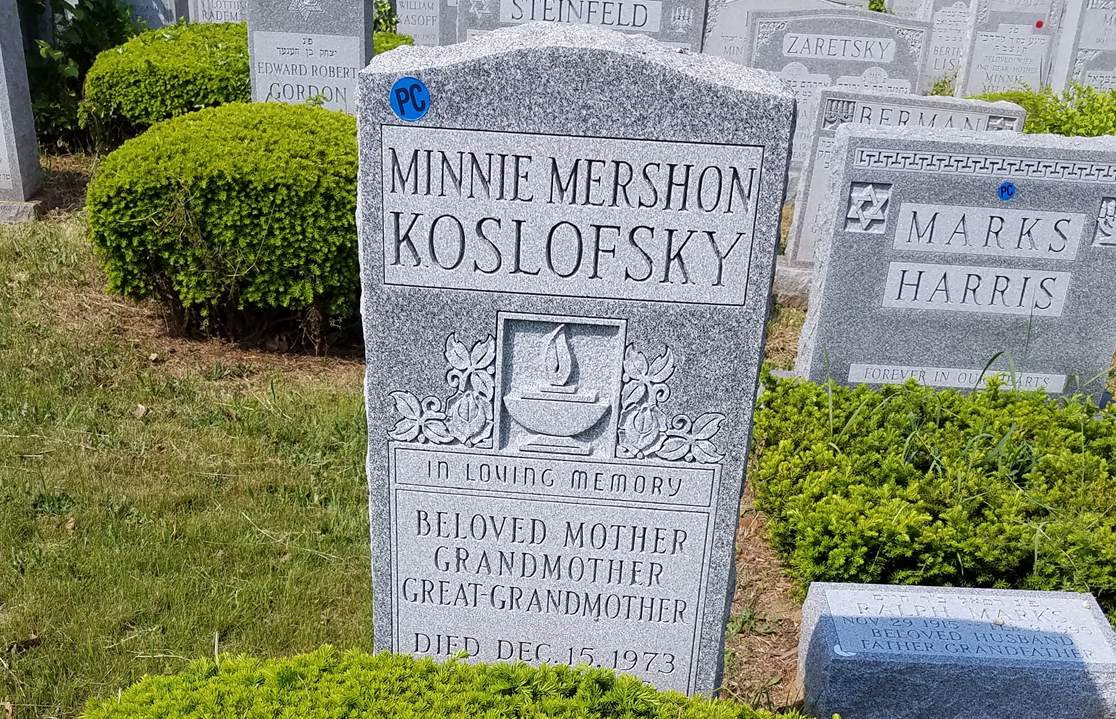 Edit (4 Jul 2019):
While working to fix a breakage on my website today, I happened across yet another record to correlate the relationship to other Rotenbergs. In the 1931 US Naturalization Petition of Benjamin Rotenberg, Minnie Mershon makes an appearance as one of his witnesses at her 266 Keap St. address in Brooklyn. Based on previous discoveries, the two were probable siblings.