Rothenberg Roundup
Connecting the dots on my Rothenberg ancestors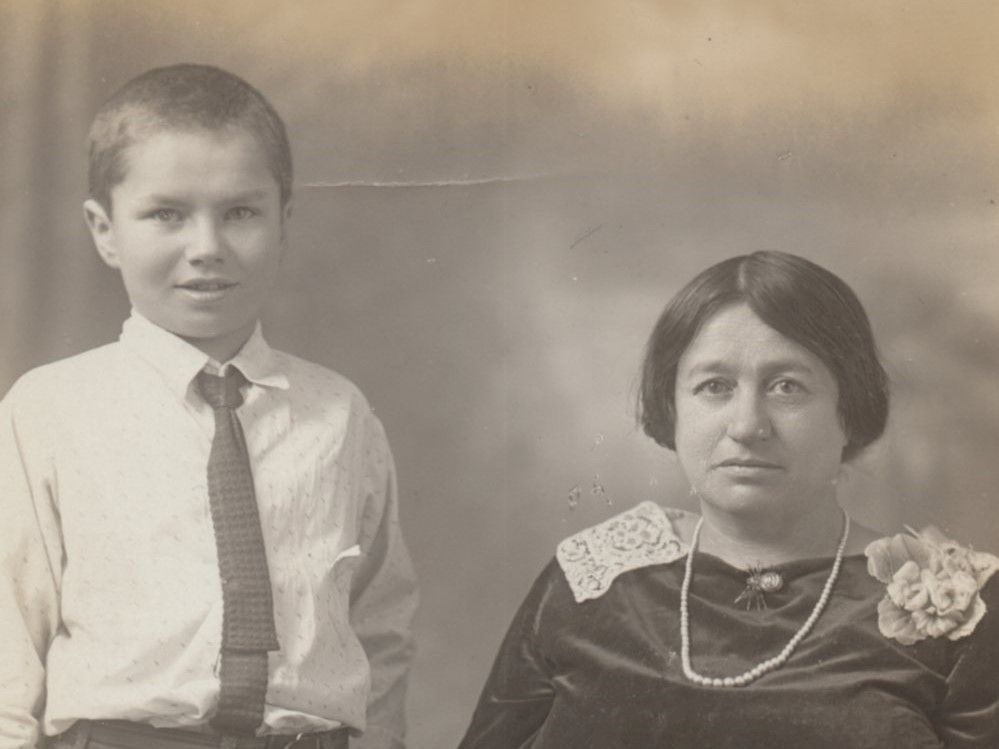 When working on my own family tree, I will often scan the DNA testing sites for matches to my family. When I find matches with trees, as on AncestryDNA, I'll scan their trees for connections as one would expect. Many people have unlinked trees (their DNA is not connected to a node in the tree) though their trees are still publicly viewable; however, many of these trees are quite shallow. In order to find a connection, I may need to try building a duplicate tree and researching connections further back, myself.
I'll generally start this process by making a new, clearly labeled "Test Tree" on Ancestry. It's critical, due to the speculative nature of these trees, that the Privacy Settings be changed to ensure the tree not only remains private, but unsearchable:

Once this is done I attempt, using primarily linking evidence (that connecting individuals to each other such as census data, marriage records, death certificates with filled in parents, passenger logs where names are mentioned, etc.) to fill out the older ancestors and expand the tree. Sometimes this takes me to interesting places.
In a recent attempt, experimental tree building led me to an ancestor of one of my genetic matches with the last name Rothenberg, a name that hadn't been well researched in my own tree yet. This was an exciting lead I had to go deeper into, which would fill in many connections through sometimes convoluted paper trails.
What I Already Knew
Fannie (Finkel) Lichstein (nee Rothenberg)
My Rothenberg family (also known as Rotenberg, Rottenberg, and sometimes Rosenberg or Rozenberg, depending on the record) hails from around the Zamosc and Hrubieszów areas of the Lublin district of Poland around the late 1800s to early 1900s. Specifically, my great grandmother Fannie (Finkel) Rothenberg (Rotenberg) was born in Mołodiatycze and raised in Grabowiec before marrying my great grandfather Albert Sidney (Abram Symcha) Lichstein (Lichtszajn) in Chelm in 1903. I know all this from a Chelm marriage record turned up using JRI-Poland's index, which I later had fully translated: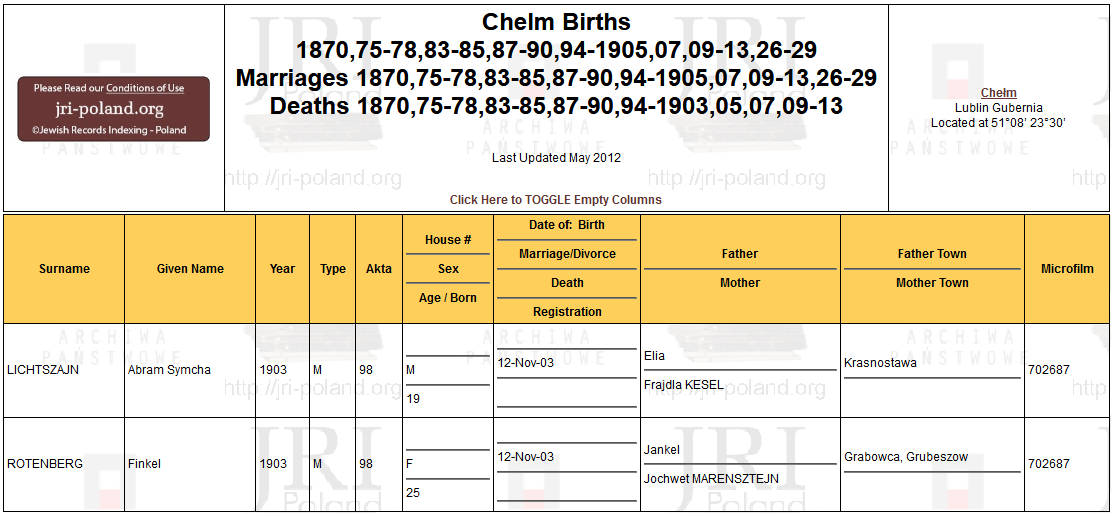 From this record, I know Fannie's father's name was Jacob or Jankel (a nickname for Jacob) while her mother's name was Jochwet Marensztejn. In the index it's stated that her father resided in Grabowiec, Hrubieszów. Fannie's father is also confirmed in the (horrifically transcribed as "Firpe Lichtenhan" - this was a tough one to find) New York Passenger and Crew List for Fannie's passage to New York in 1908.

Brana Lederman (nee Rothenberg)
In past, I've quested to find information on the Marensztejn/Merensztejn last name which turned up very little short of an interesting record in the Radom Book of Residents index of JRI-Poland:

I've pursued research on this record enough to find that others have interpreted Lederman as being Brana's maiden name, which makes little sense in context. Given the same household and different parents, it's clear that Kojfman and Brana are wed and that while Kojfman was born in Radom, Brana was born in Grabowiec. Between the town of birth, the father's first name, and the mother's full name repeating Fannie Rothenberg's records, it's clear enough to me that Brana's maiden name must have been Rothenberg and that she is Fannie's sister.
I bring the Ledermans up because they will become relevant as supporting evidence of one of the connections found in my current research.
Older Rothenbergs?
To make matters of DNA matching slightly more complicated, Fannie isn't the only Rothenberg I descend from. Fannie's husband Albert's grandmother, Sura Szandla Lichtsztajn, my third great grandmother, had the maiden name Rotenberg. She was born in Krasnik and I currently am unaware of how she may be related to Fannie, but Jewish marriage in the old country being what it is, it wouldn't surprise me at all if they were distant blood relatives.
My Genetic Connection
For matching on my mother's side I am fortunate enough to not only have my data but to manage her AncestryDNA profile as well: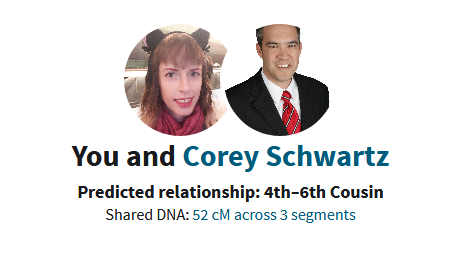 Ancestry suggests a third cousin distance between my mother and Corey Schwartz, though if my theory holds I'm actually Corey's third cousin, making my mother his second cousin, once removed. To double-check the predictions, one tool I like to use is DNAPainter's Shared cM Project: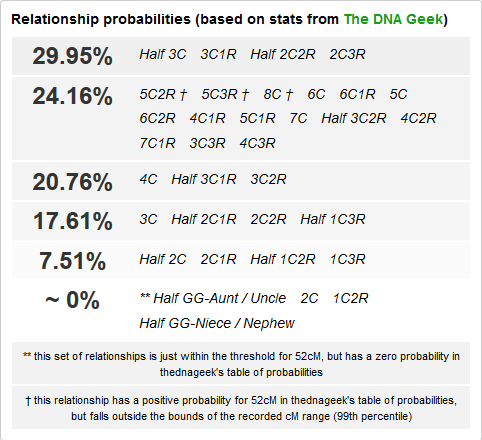 From the probabilities charts on the right, above, we can see that my prediction that my mother is second cousin, once removed (2C1R) to Corey is among the most likely possibilities. Predictions become fuzzier, the further away in relationship one is from the other person, so mine, on the left, is a bit messier, though third cousin is still easily within the realm of possibility.
Looking at Shared Matches, Corey and I share almost no matches I'm aware of my connection to. While this could be disappointing for some, to me it's encouraging that unlocking my connection to Corey could help explain so many of these other matches! One of the matches I know of is easily explained (one of my known cousins, a fellow descendant of Albert and Fannie), and the other less easily. Research for another day.
Rose Rubin (nee Rothenberg) and Jacob Rothenberg
Duplicating Corey's data into a test tree, which only contained history up to his grandparents' generation, I was able to use a combination of census and US Social Security Claims records to discern his great grandmother had the maiden name "Rotenberg". I confirmed this fact with Corey by email.
Given that Rose had apparently immigrated alone at the age of 18 and married shortly thereafter, I did not expect to find any other Rothenbergs in her census data. Imagine my surprise when I found the following 1925 New York State Census record:

Jacob Rothenberg had been living in New York City with his daughter Rose for 4 years, having immigrated in 1921. I felt certain this Jacob was Fannie's father (again, Jankel is a nickname for Jacob) so I kept researching. I found Rose's 1911 passenger list (named Rosa Rothenberg), listing her father as Jankel (or perhaps Ankel) Roth.:

This doubly confirms the Jacob/Jankel duality. The second half of the record (second "page" in Ancestry, which frustratingly doesn't automatically get saved to the linked record) confirms that she was betrothed at the time of her travel, with her "husband" listed as M. Rubin:

Rose's birthplace (on the second "page" in Ancestry) is entered as Warsaw ("Warshaw").
I went looking on FamilySearch for additional records that would prove the relationship beyond a doubt and found exactly what I was looking for in the New York City Marriage Records from 1911: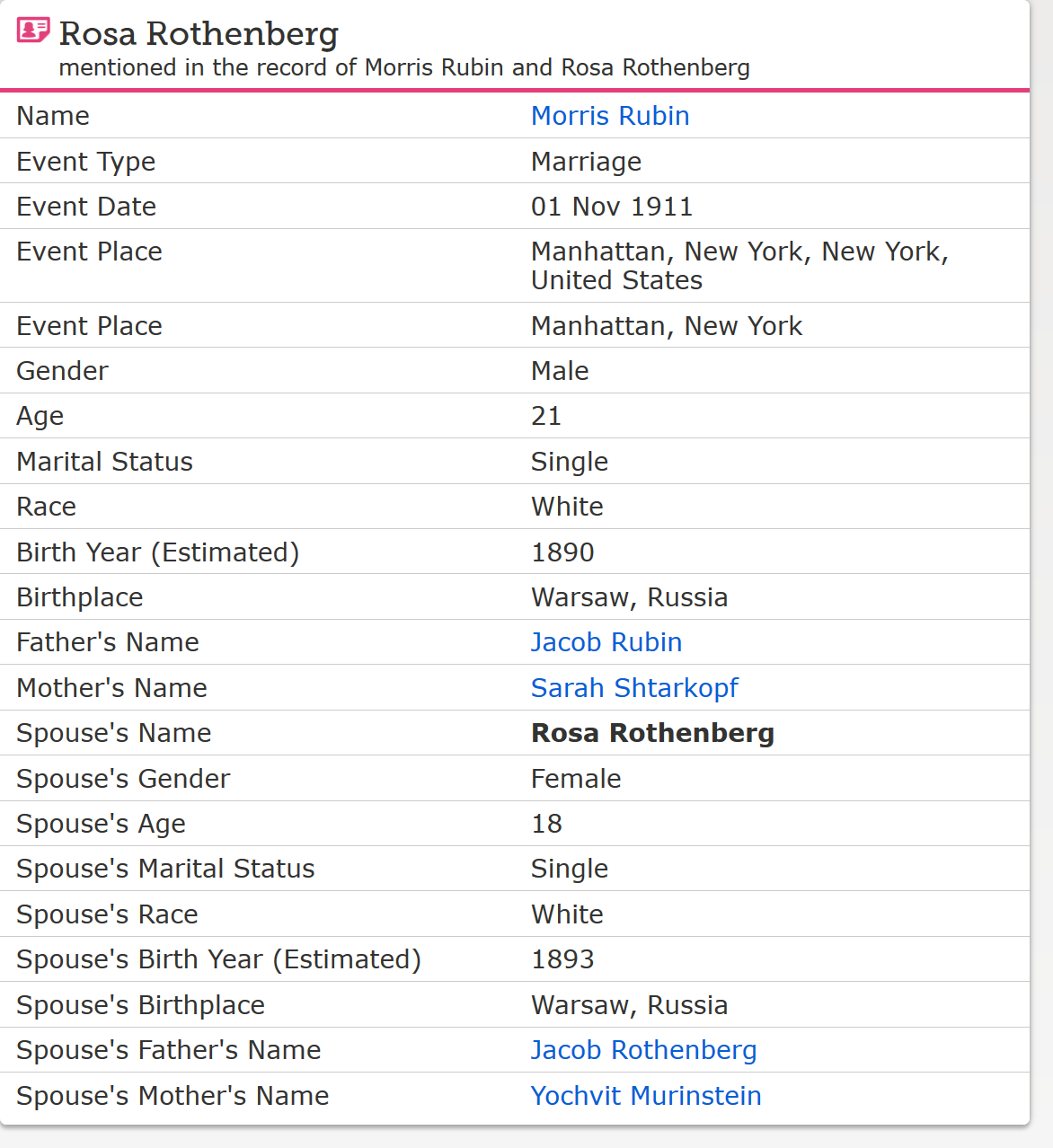 Given both of Rose/Rosa's parents align (spelling aside) with what I know of Fannie/Finkel's parents, beyond a doubt the two were sisters.
I found additional records for Jacob: a 1921 passenger list as well! Of the surprises, the first was that he wasn't traveling alone; he shared the voyage with his 21 year old daughter, Sura Rotenberg:

The second surprise was that Jacob listed a son, still living in Warsaw, named Benjamin Rotenberg:

The third surprise was a son-in-law living in Wayne county, Michigan, named Nathan Steinberg, listed as Jacob's contact (on the second half of the page, the "next page" in Ancestry, line 22).

Not a surprise, but a confirmation: this Jankel was listed as having been born in Grabowiec, the same place Fannie's parents were living at the time of her marriage to Albert!
The listing for Nathan Steinberg meant Jacob likely had another daughter married to Nathan and possibly already living in Michigan as of 1921.
Benjamin Rotenberg
I scoured Ancestry for a Benjamin Rotenberg traveling from Poland after 1921 and shortly found the passenger list I was looking for in 1925. He was traveling alone, and there was a surprise on the first page:

Lo and behold, here was confirmation of Brajndla (AKA: Brana or Braina) Lederman as Benjamin's sister. This is (spelling and location notwithstanding) evidence supporting my previous findings that Brana Lederman was Fannie's sister. What other surprises did Benjamin's passenger list have to offer?

Perhaps not a surprise as we've already been introduced, but similar to Jacob's record which listed Nathan Steinberg of Wayne, Michigan as his son-in-law, Benjamin's record listed "Natan Sztejnberg" of Detroit, Michigan as his brother-in-law.
Last, but not least, Benjamin's record lists his birthplace as "Skabowicz", but since no place by that name exists, it wouldn't be a stretch to assume it was a typo or misreading of Grabowiec. Indeed, Benjamin's US Naturalization Petition shows the correct spelling:

Mary Steinberg (nee Rothenberg)
This brings us to Nathan Steinberg of Detroit, Michigan. It took very little time before discovering marriage records for Nathan's children listing their mother as Mary or Miriam nee Rothenberg. Mary's records were plentiful. The first record I located was a passport application submitted in 1920 in Warsaw as an American citizen, implying Nathan and Mary were wed prior to her arrival to the US. Mary's birthplace was listed as "Grobowiec":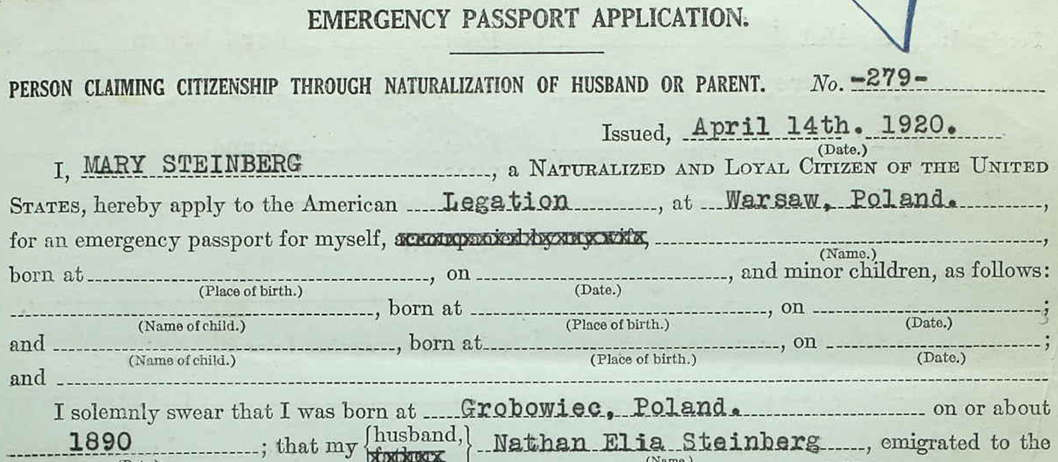 Page two of the passport application features a strikingly high quality passport photo of Mary at age 30: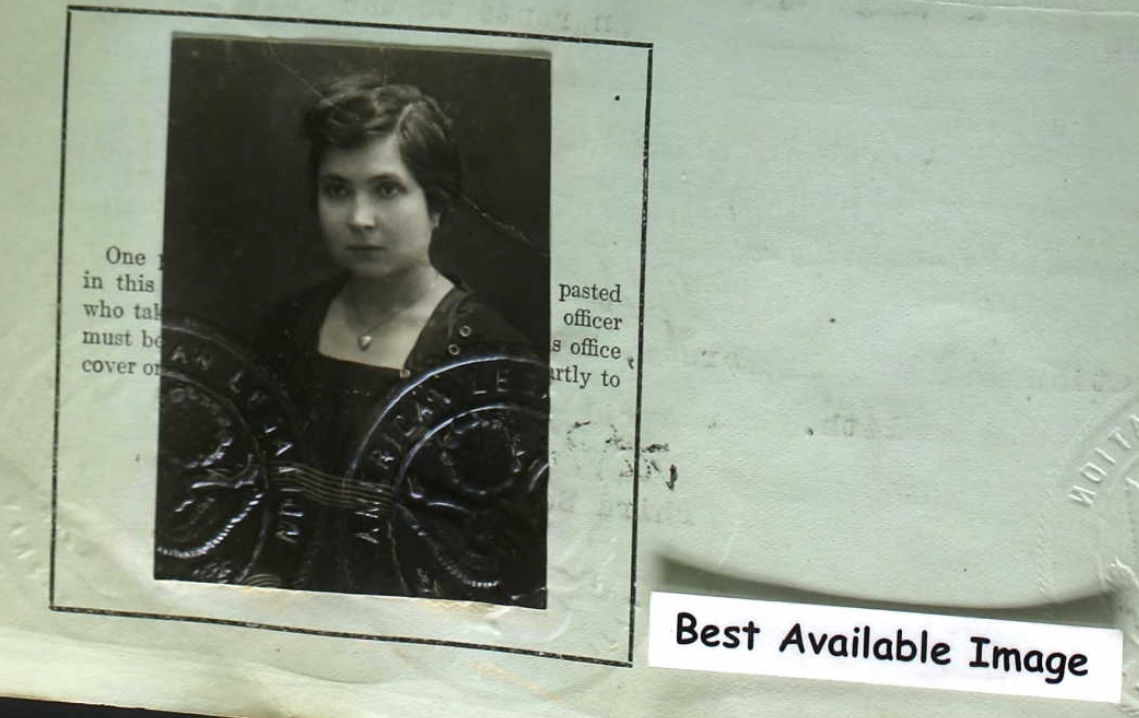 Mary's 1920 passenger list for her travel to the US (under the name Mary Steinberg) again brings us back to Jacob/Jankel who was still living in Warsaw in 1920:

The second half of the page (Ancestry's "next page") provides us with her husband's contact information, as expected:

Her birthplace is listed again here as "Grobowiec."
Sura Woodberg (nee Rotenberg)
If you've been paying attention, you'll note there's one individual I've missed. I was initially having trouble finding records for Sura Rotenberg, who you'll recall traveled to America with her father Jacob Rothenberg. Going back to the 1921 passenger list to write this post, I realized Jacob and Sura were first headed to Michigan. Scouring records for Sura in Michigan eventually turned up the following 1925 marriage record:

While the bride's age differed from that on the passenger list by 5 years, what I saw on page 2 floored me and confirmed that this was the same Sura Rotenberg:

While the first names had been anglicized, Sarah Rotenberg's parents were listed as Jack Rotenberg and Jennie Maronstein. This could not be a coincidence! I'm sure further research into marriage and death records will turn up similar evidence.
Continuing to research Sura/Sara/Sarah, I looked for census records and turned up the following 1930 United States Federal Census record for Detroit, Michigan:

Now we know where Jacob went after leaving New York. Here, in the same household, we have Sara and Jack Woodberg, son Louis Woodberg, Jack's father Sam Woodberg, and the reappearance of Jacob Rothenberg, now going by Jack. While the birth years are again questionable, the year 1921 appears quite prominently as the immigration year for both Sara and Jack R., providing additional confirmation that these are the same people. They reappear in the 1940 United States Federal Census:

From Jack Woodberg's 1927 Naturalization Petition, it's clear that Sarah Woodberg and her sister Mary Steinberg stayed in touch as Nathan Steinberg signed as a witness:

Summary
If you're skeptical about the potential of DNA evidence to help find information on your families, look no further than this post for confirmation that a single match with a partially completed tree can open the door to a whole lot of information. While there remain parts of this tree for which more solid evidence would be nice (Polish records, for instance), this is about as solid a starting point as I could hope for in researching my Rothenberg lineage.
Here is a table of the Rothenberg family described above. I'm hoping genetic genealogy will eventually help me prove this beyond all doubt. I'll be sure to update it as I learn more:
| Gen | Name | Birthplace | Birth Date | US Arrival |
| --- | --- | --- | --- | --- |
| 1 | Jack (Jacob/Jankel) Rothenberg | Grabowiec | Abt. 1857 | 14 Sep 1921 |
| | Jennie (Jochwet) Marensztejn Rothenberg | Grabowiec? | | |
| 2 | Fannie (Finkel) Rothenberg Lichstein | Mołodiatycze | Bet. 1878-1884 | 21 Dec 1908 |
| | Mary (Miriam) Rothenberg Steinberg | Grabowiec | 10 Mar 1888 | 29 Jun 1920 |
| | Rose (Rosa) Rothenberg Rubin | Warsaw | Abt. 1893 | 31 Oct 1911 |
| | Benjamin Rotenberg | Grabowiec | 28 Apr 1894 | 4 Dec 1925 |
| | Bertha (Brana/Brajndla) Rothenberg Lederman | Grabowiec | 15 Mar 1895 | Bet. 1928-1935* |
| | Sura Rotenberg Woodberg Lipowicz | Warsaw | 15 Apr 1900 | 14 Sep 1921 |
*I believe Brana/Brajndla traveled to the US between 1928 and 1935 but I haven't yet found the passenger list for her. Her husband Chaim/Hyman Lederman traveled to the US in 1926 under the name Chaim Wolf. More to come in a future post.
Edit (14 Apr 2019):
I was just today sent a copy of Sarah's obituary from August 17, 1966 (she passed on August 15):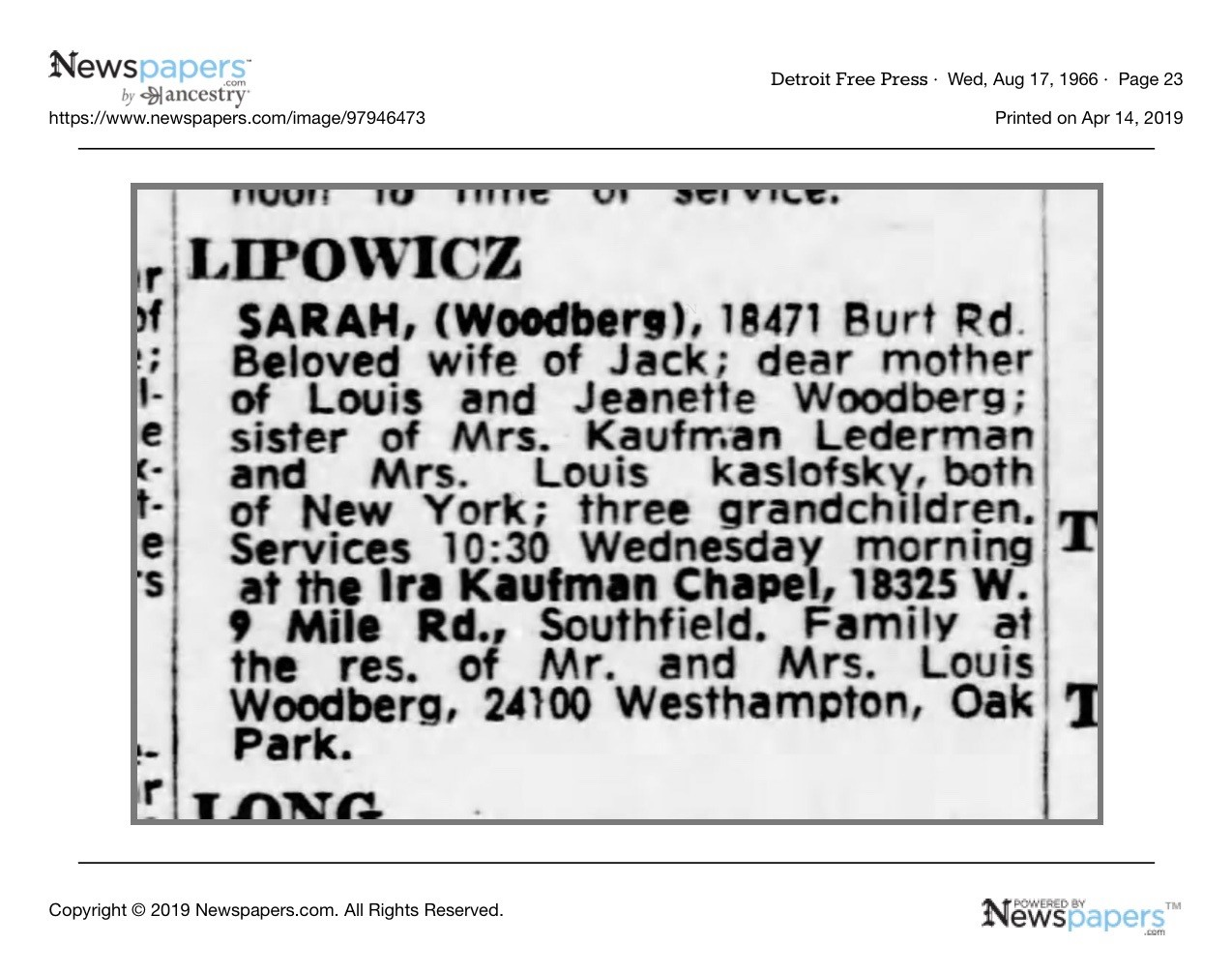 The obituary confirms Sarah's sister to be Mrs. Kaufman Lederman (AKA: Brana Lederman) and introduces a potentially new sister, Mrs. Louis Kaslovsky of New York. I'm currently researching to learn more about this potential other daughter of Jacob and Jochwet. Stay tuned!
Edit (15 April 2019):
The person I genetically matched with, Corey Schwartz, has given me permission to refer to him by name and I've revised the post to do so. I previously referred to him as "RothC" in this article to protect his privacy, in accordance with my standard practice of obscuring the names of DNA matches.
Edit (8 June 2019):
Are there even more Rothenberg children of Jacob and Jochwet than I've accounted for? Exploration of one possibility appears in a more recent post.
Edit (14 June 2019):
Speaking with my DNA match, Howard Siegel, today, I've confirmed Minnie Rothenberg Mershon later married Louis Koslofsky, which connects her to Sarah Rothenberg Woodberg Lipowicz whose obituary lists a sister, "Mrs. Louis kaslofsky," in New York. Howard also confirmed memory of awareness of an Aunt Fannie in Canada as well as a violinist cousin Joe Lichstein. He also confirmed knowing varying amounts about all the other siblings of Fannie, Minnie, and Sarah. These memories tie our families together and I'm so grateful for having had this conversation. We've shared access to each other's trees in the hopes of future collaboration.